By Sara Scheler
Though last year's record of almost 500 new students was not broken, Dominican welcomed 481 incoming freshmen and 154 transfer students last week.
Just over a third of the freshmen students are male—pretty typical for Dominican. The average GPA is 3.5 and the average ACT score is 22. Ninety five percent of the freshmen are from Illinois.
Karl Stumo, vice president of Enrollment Management and Marketing, said the nursing program has done great things for enrollment. Pre-nursing is the number one intended major of the incoming freshman class. "The nursing program positions Dominican into a position of strength." Other popular majors are business, deciding, psychology and criminology.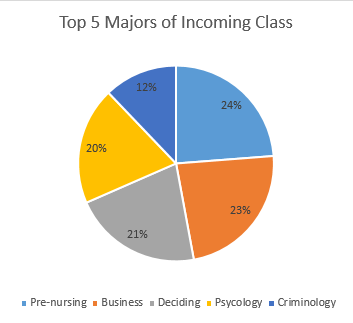 Scholarship did not increase this year; Stumo said Dominican attracts many Pell Grant eligible students.
"We always focus on supporting diversity and academic quality," said Stumo. The largest ethnicity represented is Hispanic. "Dominican continues to serve the Hispanic and Latino communities very, very well."
According to Stumo, retention from last year is "very good," up a bit from last year at 82%. Transfer student retention is at 85%, a "fabulous number."