Dominican professor remembers Iraqi suffering
By Melissa Rohman
Theology professor Father Richard Woods has made many close friends in Iraq and is heartbroken with the violence and turmoil the Islamic State of Iraq and Syria, or ISIS, is causing in the Middle East.
Following the Gulf War, Woods and several Dominican sisters traveled to Iraq in 2001 to help establish hospitals and aid reliefefforts. He returned to Iraq in 2003 and 2004 to check on the work and revisit old friends."It's the people," Woods said, who suffered during the Gulf War and who are suffering now at the hand of ISIS.
"I fell in love with Iraq," said Woods. "The coming of ISIS is a terrible tragedy, a blow upon a bruise. They represen the worst example of intolerance, savagery and heartless cruelty toanyone who doesn't think and act exactly as they do."On his trips to Iraq, Woods and his team focused on getting medicine and supplies to the hospitals and bringing necessities and toys for the children who had been injured in the fighting."The children taught me that our efforts were well worth the time, energy, money and work," Woods said. "They were wonderful kids, eager to learn and to become part of better world, and they thanked us for helping make it possible."
Today, there are 25 Dominican friars and 150 sisters working in Iraq to be advocates for and help those citizens and children still suffering
"The dedicated Domincan sisters are the real workers," Woods said. "They are working to save the children."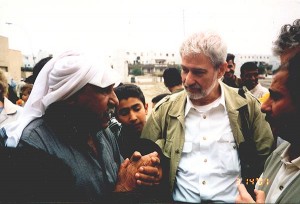 In August, ISIS extremists captured American journalist Steven Sotloff and beheaded him, capturing the gruesome event on video as a "second message to America" to halt airstrikes in Iraq. This act made the violence that had been occurring toward Iraqi citizens for months seem much closer and much more real to American citizens.
Founded in 1999 under the command of Abu Musab al-Zarqawi, ISIS has been claiming religious authority and political control over the world's Muslims. Active in Iraq and Syria, ISIS a self-proclaimed caliphate, a type of Islamic state led by a group of religious authorities under a supreme leader, who is believed to be the successor to Mohammed. The group has been described by the United Nations and Western and Middle Eastern media as a terrorist group, and several countries have designated it a foreign terrorist organization.
Although it is unclear exactly how much territory ISIS controls, some experts estimate the group dominates 13,000 square miles in Syria and Iraq. In Iraq, their devastation has reached within a few miles of Baghdad.
Where ISIS militants have gained ground, they have persecuted Christians, making Christianity a crime punishable by death. They have destroyed churches, murdered innocent people and forced thousands to flee their homes.
In September, the CIA estimated ISIS had between 20,000 and 31,500 fighters in Syria and Iraq. ISIS had close links to al-Qaeda until February 2014 when, after an eight-month power struggle, al-Qaeda cut all ties with the group, reportedly for its brutality and "notorious intractability."