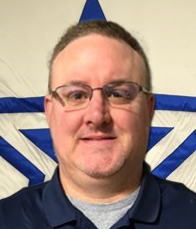 Thomas Gibbson
Staff Writer
January 9, 2019
Born and raised in Woodridge, Bill Downing has always had a passion for sports. When he was a little kid, him and his cousin would pretend like they were radio broadcasters, calling the big game and going crazy after the win. His love for broadcasting started then and it's grown ever since.
"The style I present is all about having fun," Downing said. "If you are not having fun, whoever is listening or watching the game is not having fun. They do not care how good the game is. They are probably going to turn you off. I try to have as much fun as possible."
Downing came to Dominican with a broad range of experiences. After seven years seeing the world while serving with the US Navy, Downing found work at a maximum-security prison in Michigan. One day on the job, he was attacked and was severely injured. He ended up having back fusion surgery and left knee reconstruction. But that did not stop Bill from chasing his dreams of being a sports broadcaster.
One day, Downing was listening to the radio in Ludington, Michigan and he heard about an opportunity to work in sports broadcasting. Bill got a job working board operations next to the long-time legendary broadcaster Rod Beckman on WKLA 106.3 FM. One day, Beckman decided it was time to hang up his hat. This sparked Downing's play by play career, starting off calling high school football and basketball games for Ludington High School.
After some time in Michigan, Downing came home to Oak Lawn, IL and went to the Illinois Media School in Lombard to improve his craft. "I got my sports emphasis degree from them," Downing said." We worked with the Windy City Bulls for their inaugural season. We did play by play, camera work, and more for them. That's how I cut my teeth with them." Bill is now the full-time shot clock operator for the Windy City Bulls.
From his work with the Windy City Bulls, Downing's name got around. He got an opportunity with Dominican University and the Chicago Bandits, a fast-pitch softball team in Rosemont.
"At the time, an Illinois Media School student was doing the play by play for Dominican," said Downing. "He was moving to Boston and he dropped my name to the school. I met Ken Trendel on January 2, 2017 and I did my first game." A tryout turned into a job and he's been at Dominican ever since.
Ken Trendel, Sports and Information Director at Dominican, brought in Downing for a tryout last January and he was glad he did. "Bill is a professional to an extreme," Trendel said. "He came with a tremendous background. I cannot say enough good things about Bill. He was not doing sports like volleyball before he got to Dominican and he has done a great job calling those games. Bill goes above and beyond and enjoys doing it.
Going on his second year at Dominican, Downing's booming voice can be found on broadcasts for men's and women's volleyball, basketball, men's baseball, and women's softball. He was able to go with the men's volleyball to the Final Four in Kenosa, WI last year, just one of the many experiences Bill has enjoyed calling games for the Stars.
Amari Stafford, a junior on the women's basketball team, usually listens to the broadcast after games. "Bill is a very energetic and consistent announcer," Stafford said. " He's engaged with the game no matter if we are winning or losing."
Outside of Dominican and the Windy City Bulls, Downing is also the shot clock operator at Roosevelt University. And while it's not being behind a microphone, Bill enjoys every minute of it. "You get to be courtside for some of the best games in the area and it's a really cool experience," he said. Also, Downing calls games for Bloomington Edge, an arena football team, Aurora University, and the Lincoln Way Patriots. He was fortunate enough to call 24 games at the College World Series in South Carolina for the NCCAA in 2018. "I've called the Dominican's men's volleyball Final Four, Aurora University women's volleyball Elite Eight. I'm very blessed. It's all hard work, a never quit mentality, and embracing the grind."
Now Bill's style started back with his cousin, but it's also stemmed from Dominican being so welcoming that he gets excited every night he gets a chance to call a Star's game. "Every broadcaster has their way to bring excitement to the viewers or the listener," Downing said. "I've always dreamed about being on the call for the last second touchdown, a game winning home run or a last second shot. I do not want the people watching to lose interest in a game because I'm not showing any excitement. I enjoy those game winning shots a lot and I try to give the people as much excitement as I can."
At one point in the interview, Bill reminisced back to his incident in Michigan at the prison. It was a wake-up call and a reason to move onto something else. And that radio ad in Michigan did that.
"Dominican has opened their arms to me," Downing said. "They love what I do, and I love being there."
tgibbons@my.dom.edu
Please follow and like us: