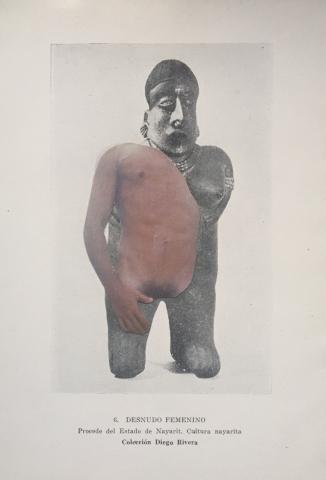 By: Natalie Bobrowska
March 1, 2018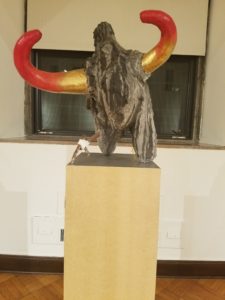 Dominican University's Le Male exhibition was designed with the idea of a popular fragrance by Jean Paul Gautier in mind; the bottle of the male cologne is in the shape of an idealized male torso, seeping sexuality. As such, Andrew ReyesBurkholder, curator and director of the gallery, used the essence of Le Male to create an exhibition surrounding the world of the queer/ gay male and what that title entails in our contemporary society, including themes of sexuality, the body, desire, objectification, and oppression.
There are two artists being represented in the show, including Dutes Miller, a Chicago-based artist who studied at Illinois State University and is now represented by Western Exhibitions, and Felipe Baeza, born in Guanajuato, Mexico and is now a Brooklyn-based artist who studied at the Cooper Union and Yale University. As soon as you walk through the door, Miller's Sealed Vessel (Wink) sculpture, made-up of papier-mâché, dyed plaster, colorful paint, and a taxidermy eye, stares right at you. It warns you of what you are about to see: larger-than-life papier-mache sex toys, horned zoomorphic creatures, and ancient sculptures-turned pornographic.
Dutes Miller creates sculptures of monstrous creatures as well as enlarged areas of the human body. Both his imagined creatures and giant phalluses are sexually suggestive with taxidermy horns and gourds protruding from gentle regions to erotically charge the pieces. Miller's Anal Intruders are explicit in their form and further the theme of opposing perspectives of the body, sexuality, and desire of queer men by being blatant and shocking in their size and obvious reference while using bright colors and soft materials to counteract the negative associations.
Felipe Baeza's collage pieces are also erotically charged and exude an undertone of pain and suffering. In his Post-Colonial Object of Desire series, the artist used photos of ancient Meso-American sculptures of male figures and adds realistic photos of chains engulfing the figures while they are sprawled out in sexually suggestive positions to touch on the idea of 'the gaze', or the viewing of someone else's body in a sexual and voyeuristic way, making the other person vulnerable. This series, as well as his Untitled (Gente del Occidente de Mexico) series, tie into the theme of eroticism and the male body and queer sexuality. However, Baeza goes beyond what Miller is trying to portray with his sculptures and references the sexual kink of BDSM, and objectification and oppression from the outside world, (outside the gay community).
The greatest success of Le Male is the opposition between a white queer artist (Miller) and a queer artist of color (Baeza). Side-by-side, facing each other, the two artworks could not be more different, but also retain a familiarity between one another. Miller uses bright colors, animal references, and enlarged proportions in his phallic-referencing sculptures. Baeza, on the other hand, uses natural colors, the human body in its "natural state", and miniaturized sizes. However, both artists incorporate unlike and nontraditional art forms including papier-mache and collage; previously considered low art or even arts and crafts mediums, papier-mache and collage are used in innovative and provocative ways in Le Male to open a bigger discussion about desire, sexuality, oppression, and objectification. Additionally, both Miller and Baeza use their personal backgrounds to influence their art; Miller uses his knowledge and supply of taxidermy items to create monstrous creatures while Baeza uses his Mexican heritage to enrich his subject matter.
However, some of the issues of the exhibition stem from the mysterious association between the two opposing artists. Without the assistance of a docent or paper summarizing the goal of the exhibition, any person without knowledge of the art of Dutes Miller or Felipe Baeza or of the underground queer artworld would be lost amongst the giant colorful penises and miniature collage nudes. The connection between the two artists is buried under layers of art theory, art history, and history of the LGBTQ+ community and it is difficult to uncover without a trained eye.
Nevertheless, visit the O'Connor Art Gallery and view Le Male for yourself. Can you make a connection between Wink and Untitled (Gentle del Occidente de Mexico) that sticks? The exhibition will remain open until March 2nd, 2018 on the fourth floor of Lewis, where eroticism will live in sculpture and collage, waiting to be seen and admired by you.
Please follow and like us: