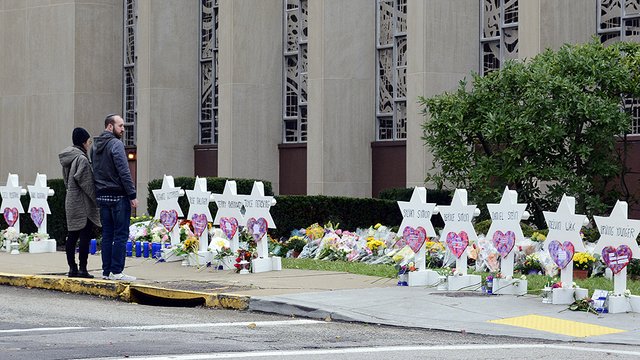 Sabrina Henderson
Social Media Editor
Another mass shooting in America, this time a synagogue, has the Dominican Community disappointed, but not surprised.
Eleven people were killed in a shooting in the Tree of Life synagogue in Pittsburgh. The late October attack is considered the deadliest anti-Semitic attack in U.S. history.
The attacker, Robert D. Bowers, 46, blamed the Jewish community for aiding other minority groups such as immigrants. He used anti- Semitic language as he continued the massacre yet, to some Dominican University Jewish faculty members, this attack is no surprise.
"No Jew was surprised," said Philosophy Professor Drew Dalton. "There has been a ramp up of anti- Semitic rhetoric in recent years, not only by the so called alt-right but also by the president himself."
The attack hit closer to home for Dalton, he had lived in Pittsburgh near the Tree of Life synagogue. The attack hit home to some Jewish students at Dominican. A relative of sophomore Jacob Johnson knew Dr. Richard Gottfried, a victim in the attack. "My relative lost someone important in her life. She lost a confidant, someone who's known her for a long time, someone who has helped her through tough times and it's just amazing how people can come in and take that out of her life" he said.
Dominican recognized the attack the following week and held a mass in remembrance of the victims that following Tuesday. During the Dia los Muertos blessing, a table was set aside to show solidarity with the Jewish community and the victims.
"One of the things that touched me was walking by the ofrenda outside the Noonan reading. Seeing the Jewish display, it touched my heart that people still remember," Johnson said.
The West Suburban Temple Har Zion in River Forest held a special sabbath, inviting community members around the River Forest and Oak Park area. Police officers were on alert as extra protection for the attendants after an incident on Sept. 30 where local man, Charles R. Duax, 41, was arrested and charged with disorderly conduct and criminal trespass after threatening and harassing the members.
Representatives from Dominican University came into the sabbath in solidarity with the victims.
Access Service Librarian Jill Bambenek, was one of the many Dominican University community members who attended. "We [Bambenek and her daughter] wanted to pay our respects, to honor the people that were killed at the Tree of Life in Pittsburgh." Bambenek was raised Catholic, but grew up in a Jewish neighborhood.
"They [members of the temple] were very welcoming," she continued, "When we went into the temple, we felt like people were glad to see us."
hendsabr@my.dom.edu
Please follow and like us: