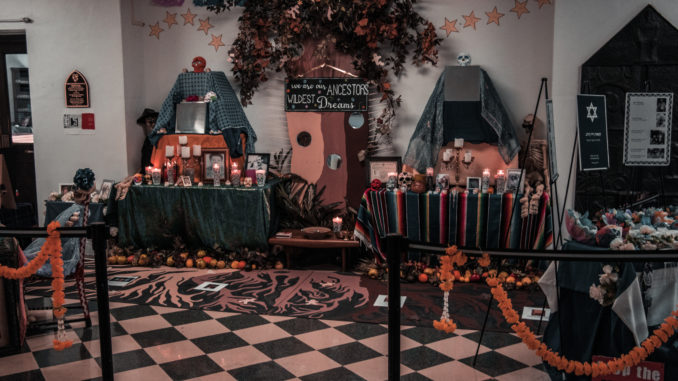 Crystal Medrano
News Editor
On Friday Nov.1  at 10:30 a.m. Dominican University held its annual blessing of the Mexican ofrenda during the widely celebrated holiday of Dia de los Muertos.
This holiday took place this year only a couple days after the shooting in Pittsburgh's Tree of Life synagogue that resulted in 11 casualties on Oct. 27.
Dia de los Muertos, or Day of the Dead is a celebration in the Mexican culture as a day to remember our loved ones. It's not a day of sorrow, but rather a day of happiness that involves the setting up of an alter filled with pictures of loved ones who passed away surrounded with candles, food and other offerings.
This year, University Ministry collaborated with classes taught by Dr. Abraham Suarez and Professor Lilly Ibarra's class to put together this years ofrenda themed "We are our ancestors greatest dreams."
Senior Jacqueline Romo finds this years Ofrenda's theme decorated with a beautiful tree to connect with the murderous crime that happened only days before.
"This years ofrenda shows how connected we are and how united we could be. The ofrenda is drawing strength from within and never forget our loved ones. The fact that our ofrenda tied closely with the shooting gave this years ofrenda a deeper meaning" Romo said.
The blessing took place outside the Noonan Reading room located on the second floor of Lewis. Students and faculty prayed on behalf of the celebration and the hallways filled with individuals admiring this tribute for the Tree of Life synagogue. 
medrcrys@my.dom.edu
Please follow and like us: