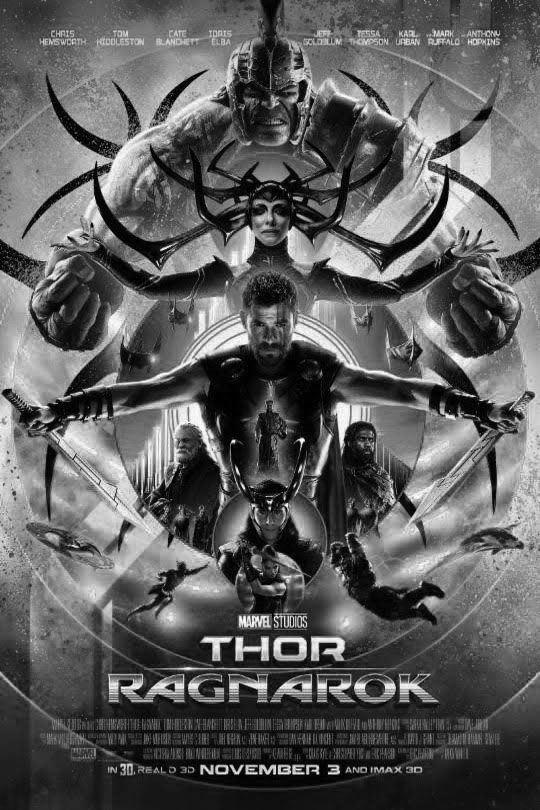 Tiffany Skelnik
Staff Writer 
Thor Ragnarok is a Taika Waititi directed film and is the latest entry in the Marvel Cinematic Universe.  The film sees Chris Hemsworth reprising his role as Thor, God of Thunder.  This time, Thor finds himself in a gladiatorial contest on an unknown planet as his home, Asgard, faces a grave threat known as Ragnarok which will destroy Asgard if he cannot stop it.
The film finds the familiar faces of Thor played by Chris Hemsworth, Loki played by Tom Hiddleston, and the Hulk, Bruce Banner played by Mark Ruffalo. They team up with new allies, the Valkyrie and Korg played by Tessa Thompson and Taika Waititi to escape their circumstances.
Chris Hemsworth demonstrates Thor's evolution throughout the film well. We see Thor go from devastation to realization and it is all credit to Chris Hemsworth's performance.  His scenes with Tom Hiddleston as Loki are fun and the two play off of each other nicely.
Tom Hiddleston as Loki has as much growth as Thor's character, demonstrating in his own way how he cares for Thor while he lives up to his moniker of the God of Mischief. He holds his own in scenes with both Hemsworth and Mark Ruffalo.
Mark Ruffalo as the Hulk and Bruce Banner gives a great performance as well.  In both characters, the viewer can see the conflict that is happening for Ruffalo's character even in the film's more comedic moments.
Newcomer to the franchise, Tessa Thompson as Valkyrie is a treat to watch.  She holds her own in the ensemble of heroes and semi-heroes well.
Overall, Thor Ragnarok is a fitting addition to the Marvel Universe as well as the Thor films. It's an entertaining ride that has the right balance of humor and heart, fans of the franchise will enjoy this film.  I highly recommend it if you are looking for something fun to do on a weekend.
postings. We have your back.
skeltiff@my.dom.edu
Please follow and like us: