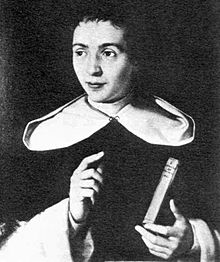 Daniel Bartik
Staff Writer & Copy Editor
On the night of Nov. 15, Dominican University will be celebrating an interfaith Thanksgiving dinner as part of Dominican Heritage month, a month dedicated to the celebration of Venerable Samuel Charles Mazzuchelli.
Mazzuchelli is famous for being the founder of the Congregation of the Dominican Sisters of the Holy Rosary of Sinsinawa, otherwise known as the Sinsinawa order and the founders of Dominican itself. The Sinsinawa order has a large presence at Dominican University; several sisters currently following Mazzuchelli's teachings include Sister Janet Welsh OP and Sister Diane Kennedy OP.
"As an educator, he was very progressive and had great vision and had great respect for girls and for women," Sister Diane says. Mazzuchelli—or Matthew Kelly, as he was known to Irish nuns—was born in Milan, Italy in 1806 and founded the first Catholic school in Wisconsin.
When assigned to Galena, Illinois in 1835, he established several churches in the area; he would end up founding over twenty parishes in the Great Lakes region, several of which are still active to this day.
Dominican Heritage Month kicked off on November 1st, with a Solemnity of All Saints mass taking place at the Rosary Chapel. Events that are still to come include the aforementioned Interfaith Thanksgiving dinner, as well as the upcoming Mazzuchelli lecture on Nov. 13 featuring Dr. Hosffman Ospino, PhD.; Ospino's lecture will examine the best of Catholic intellectual and spiritual traditions in regards to higher education in the U.S.
Since Mazzuchelli's death in 1864 in Benton, Wisconsin, there has been a push to confirm Mazzuchelli as a saint. Information provided by Professor McElwain from the theology department describes the canonization process as consisting of three steps: venerable, blessed, and sainthood. To be decreed as Venerable is to have the pope recognize one's heroic virtues. Although Mazzuchelli was venerated by John Paul II in 1993, he has yet to be confirmed as a saint, which would require two verified miracles to be performed by the individual in question, both before or after said individual's death.
The process of declaring a miracle seems to be rather difficult in this day and age, with science often able to determine the casualty of various instances. "In the twentieth century it seems as though science has trumped theology in terms of who gets to be a saint, because unless you can prove this physical miracle, you don't get there," Sister Diane says. Sister Diane spoke of one miracle in which Robert Uselmann, a Wisconsin resident, developed a cancerous tumor in his lung which disappeared without explanation as a result of praying to Father Mazzuchelli. Miracles are determined by a tribunal, which would judge an action as miraculous based on the circumstances. A tribunal was held for this particular event in Madison, Wisconsin in 2006, which resulted in an inquiry being sent to a delegate to the Vatican.
This act was not deemed to be miraculous. "When you get to Rome, there's a panel of doctors and a panel of theologians," Sister Diane says. "In the case of the one miracle that had been approved by the tribunal in Madison, of the panel of six individuals in Rome, only one approved the miracle." As of now, Father Mazzuchelli remains venerated by the Catholic church. The veneration of our founder seems as good a reason as any for another Thanksgiving dinner.
Please follow and like us: