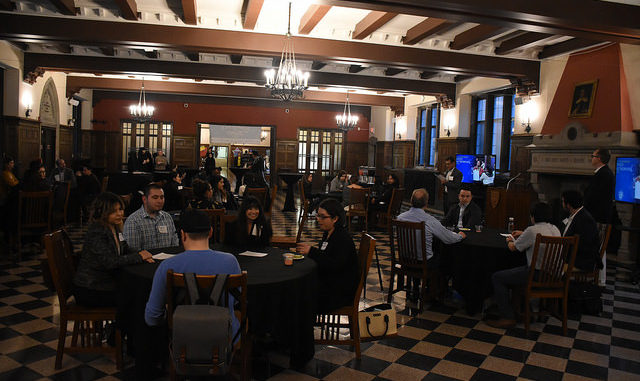 Isabelle Schindler
Staff Writer
Opinion Piece
In any profession, networking is an important skill to know and practice. Networking can help you go a step higher, help you understand your profession more, and teach you how to interact with possible future colleagues and bosses.
Dominican University makes sure its students have the opportunity to network with professors from other departments, alumnae/i, and various other speakers and visitors.
Jamie Shaw, Director of the Career Development program, says that networking is like creating a give- and-take relationship. Making these connections helps ensure that if someone needs something from you and you follow through, in return you can get something from them. Shaw advises to create a relationship that lasts years, which can take work but makes it all worth it.
She also says that one of the most important ways to create a strong relationship is to follow up with all the people you talked to at the networking event. Simply send and email or even make a phone call telling them that you enjoyed speaking with them and hope to see eachother again.
Showing up at a networking event or reception after a lecture can be very intimidating, especially if it's your rst time.
"It's a di erent setting and I think it's sometimes almost speaking a new language and you have to learn to do that," Shaw said. "And often I think students think that everybody else feels super comfortable networking and the fact is that maybe 10 percent of the room feels really comfortable doing it and loves doing it. So it's a learned skill and that's the biggest thing I hope students understand. It's something that you learn how to do."
Sararose LaGreca graduated from Dominican in 2017 and is now Alumnae/i Relations and Development Assistant for University Advancement. "Your ability to get jobs, references and letters of recommendation, and help getting into Master's programs are dependent on your network," LaGreca said."When you leave school, networking is done best by joining associations for certain professional fields, attending conferences, and being outgoing at events."
The most important thing one can do is practice because once one is in the real world most people will expect you to already know how to network successfully. It is also important to keep in mind that these alum and professionals know that you're a student and they know that you're learning; they want to help and want for you to succeed.
Dominican junior Maya Banks is a business student and President of Dominican's Collegiate Business Association. She says it can be awkward going up to someone at a networking event but has a tip to get the conversation going.
"I've found that it's easiest if you just remind yourself you're talking to another person and what do people love to do? – Talk about themselves," Banks said. "So when I'm meeting someone for the rst time, I go up to them, introduce myself and then make a general statement or question on topics like weather, sports, news. I do this to get comfortable with the person."
There's no real way to fail at networking. A job o er, an interview, and even the receipt of a business card are not garanteed in every networking event. A few upcoming events to begin your networking skills are: – Dec. 1 at 12 p.m. which is the 35th Annual Alumnae/i Children's Christmas Party. (This event requires registration which you can do on Dominicans home website under "Alumnae/i Events.")
An upcoming event that you can nd on EngageDU is: – DU Lead: Networking and Leadership on Nov. 14 from 4-5 p.m. in Springer Suites.
ischindler@my.dom.edu
Please follow and like us: