By Bianca Mena
On July 1, the Dominican athletic department welcomed Jeanne Czipri as head coach for the women's volleyball team. Before becoming head coach, Czipri worked at an elementary school and taught second, fourth and sixth grade. "I always knew I wanted to teach but teaching academically and teaching athletically are very different," Czipri said. "Both share a lot of the same goals, techniques, communication and organization. I love teaching but at the same time, I've always wanted to coach for a living and I finally get to do that."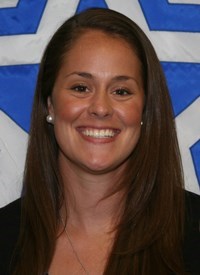 Last fall, Czipri was offered a job on staff through previous head coach, Ryan Baumgartner. "[Baumgartner] had originally reached out to me in an interest to bring me on as an assistant for this upcoming school year," said Czipri.
Plans changed one morning when Czipri received a phone call from Baumgartner explaining that he had resigned from his position and wanted Czipri to take over as head coach. "A long interview process later, I was offered the position," said Czipri.
According to Czipri, Baumgartner resigned because he wanted to spend more time with his family.
Czipri believes that the biggest challenge she has had to face is managing the administrative side of being a college coach and making sure everything "lines up."
"Between the athletic side, as well as the administrative side, it is a pretty intense role," said Czipri. "Managing the administrative side of this role is getting used to the paperwork side of college athletes: yearly budgeting, doing statements correctly, doing the meal plans, reserving hotel rooms…once I get used to doing everything, it'll move a lot smoother."
To help Czipri through this transition, she has found Baumgartner supportive and helpful when needed. "[Baumgartner] has been a very good resource when I was unsure of things: looking at the schedule and looking at who we were competing. He has helped me figure out which teams are stronger," said Czipri. "He also gave me advice with the administrative side."
Along with the challenges that Czipri has experienced, she set some goals for herself. "My individual goal is to make the transition from [Baumgartner] to me as smooth as possible while still creating a culture that works in the way that I want to take the program," said Czipri.
As for the girls on the volleyball team, Czipri has one main goal. "The [goal] is getting this group, that is already talented, that has already found success in conference, to be recognized and to get them to be ranked regionally, to get to that next step, to win that first round in the NCAA rather than just make it there and lose, but actually make our mark outside of conference."
With this goal in mind, Czipri has not lost an opportunity to train her players. A little over a month after her first official day at Dominican, pre-season had begun with what Czipri describes as "triple sessions," with multiple practices throughout the day.
"It was a pretty intense week for the girls; mentally, physically, and emotionally," said Czipri. "But they did really well."
Once classes started for the fall semester, Czipri began a new schedule. "We have six a.m. practices. Getting in about 5-5:15, going through the practice plan, making sure that I have everything figured out, that I feel good about what I planned the night before. Then, coming in and doing the administrative work. Depending if I have a staff meeting, getting contracts, or organizing events we host, some days [the volleyball team] will have a weight-lifting session."
Along with the strength conditioning, Czipri has implemented what she considers 'mind setting' to the practice routines. "We started doing about 20-30 minutes of mental training: relaxation, visualization," said Czipri. "It's the little things that can give, if practiced well, an extra edge."
As an undergrad, Czipri studied kinesiology sports studies and took a wide variety of athletic courses, including sports psychology. "As a collegiate athlete, I know that everybody at that level is talented," said Czipri. "Everybody is good, but what sets great athletes from championship teams is their confidence and their mental edge; their ability to stay composed."
Czipri is very grateful for the opportunity and the kindness that Dominican students and staff have expressed to her. "The athletic department has been very helpful, very kind," said Czipri. "I got a great bunch of girls; they are very motivated, driven, goofy as all heck, and they have great work ethic. I am hoping to bring more success to an already successful program and make a name for ourselves."