By Marty Carlino
On the heels of a strong inaugural season as an NCAA Division III program, the Dominican Men's volleyball team opens their second season with high expectations. The team finished their first season with an overall record of 14-13, while going 5-5 in conference play.
The team's solid conference record earned them a bid to the conference tournament, where they were defeated by the top-ranked Juniata College.
Following the first season, head coach Dan Ames earned coach of the year honors from the Continental Volleyball Conference.
The 2015 season provides a new set of challenges for the team as they begin play in the Midwest Collegiate Volleyball League. The MCVL preseason coach's poll tabbed the Stars to finish second in their new conference.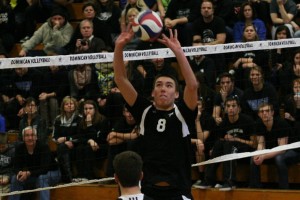 The team is set to bring back 14 players from last season and add five new freshmen for the upcoming season. Ames said: "We want to build off last season. Last year we played in the second hardest conference where only the top three teams made the conference tournament and we were one of them. Our goal is to win the conference championship and make the NCAA tournament."
The team will have to be on top of their game throughout the season as they are scheduled to face six out of the top 15 ranked teams.
The team will begin their season on Thursday, January 22 with a game against St. Xavier University. MCVL conference play begins on February 7 against Loras College.