By Marty Carlino
In their first ever match in the Midwest Collegiate Volleyball League conference, the Men's Volleyball team defeated Loras College to notch their first win of the season. The Stars rolled past Loras College on February 7defeating them in three consecutive sets (25-16, 25-10, 25-21).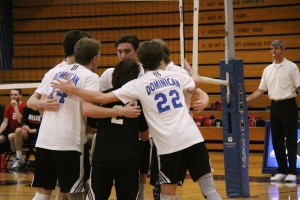 This was one of their best performances of the season. Offensively they posted their best hitting percentage of the season and committed a season low eight errors. They also blocked Loras 10 times at the net. Sophomore Mason Solbrig had a team high of 7 blocks while adding an additional 9 kills.
The Stars continued to add wins as they defeated Benedictine University in their next match on February 12.  In a much more tightly-contested matchup, the Stars outlasted Benedictine in five sets (25-12, 25-21, 25-16, 25-22, 15-11). The first four sets of the match saw the two team trade victories, with the Stars capturing the first and third sets and Benedictine winning the second and fourth sets. In the crucial and decisive fifth set, the Stars fell behind early but Freshman Luke Spicer slammed consecutive kills to give the Stars the lead and they never looked back. Overall, Spicer compiled a team high of 16 kills. Sophomores Mason Solbrig and Zachery Sinn added 13 kills of their own to help lead the Stars to victory.
The Stars rallied off their third consecutive victory with an impressive win over ranked opponent Milwaukee School of Engineering on February 14. MSOE entered the match ranked as the number 14 team in the American Volleyball Coaches Association poll. The Stars defeated MSOE in a close matchup that once again saw the two teams play all five sets. This win was the Stars second-ever victory over a ranked opponent. The game turned out to be very similar to the Stars' previous matchup against Benedictine—both teams swapped victories in the first four sets and the match again came down to the fifth set. The Stars trailed late in the fifth set by a score of 9-7 but they battled back after a series of MSOE hitting errors and ultimately won the set by a score of 15-12 to complete their victory.
When asked about his team's performance over their first three conference games, head coach Dan Ames said: "Each game we have gotten progressively better. In our first three games of the season we made 108 errors as a team. Now, we are starting to minimize our errors and our guys are becoming more comfortable with who they're playing next to."
The Stars will look to continue adding wins in the MCVL conference as three of their next four games are against MCVL opponents.