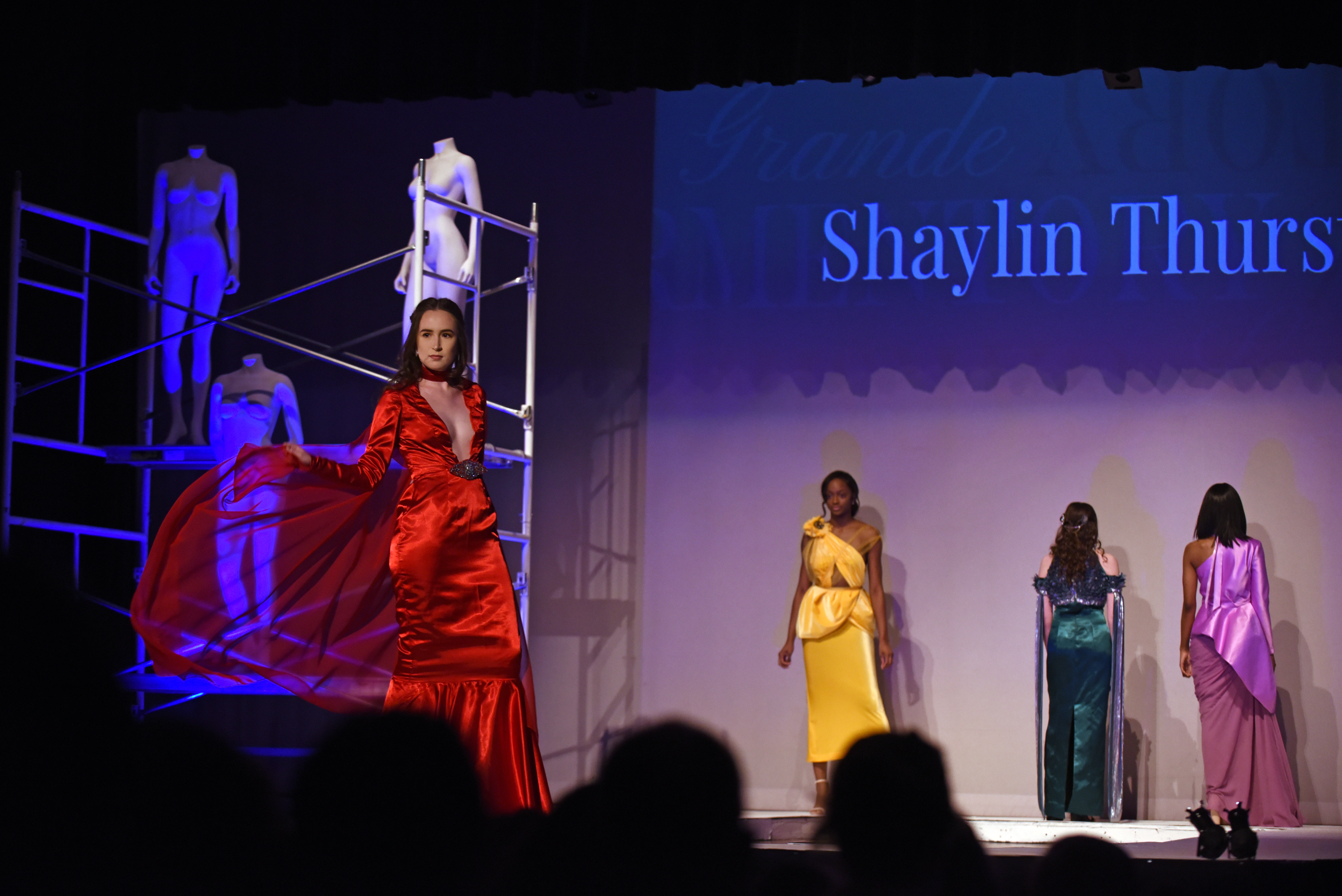 By: Sabrina Henderson
April 25, 2018
Dominican University hosted the first annual Fashion Week, leading up to the 2018 Fashion Show.
The annual Dominican University Fashion Show has been a much anticipated event, and this year is no exception. This year's theme: La Grande Garmentory. According to senior and Co- Director, Myhka McKinney, "To translate this means: The Large Inventory of Garments. The beginning of the title is French, but the word "Garmentory" was made up by one of our seniors, Joselyn Ramos, by combining the words "garment" and "inventory". La Grande Garmentory, honors the roots of the fashion industry and celebrates fashion in a modern and thrilling setting."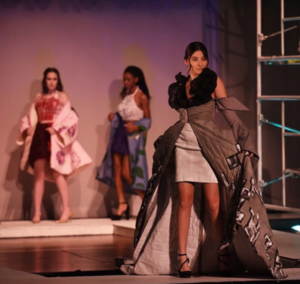 This year's new feature was not actually the event itself, but the week days leading up to it. Every day was held a variety of events. A senior held student Q&A on Monday, April 2. Tuesday was dedicated to Guest Industry Speaker Tracey Janowitz, class of 04' and recipient of the Distinguished Alumna Award.  Students also enjoyed a lesson and seminar about Runway Walking, led by Tracey Tarantino from Zzazz Productions. Lastly, Thursday held the Fashion show kick off, which featured music, snacks, prizes and a clothes donation/exchange in the Social Hall.
The Show, held Saturday April 7 and Sunday April 8, was greeted with excitement from the audience. The stage was beautifully decorated mannequins and large shelving. The show starts with Intro to Design students, showcasing their work, giving the audience a little taste of their skills. Next, was Draping Forties, which tribute to vintage 40s garments, but with a modern twist of color and design.
A blast from the past, which included pieces from the Dynasties of Egypt, to disco fever. Career Day brought a refreshing take on what many consider "professional." Computer- Aided design gave an urban twist to Indian textile. Origami Lines were all about interesting shapes and form. Found Objects in Quilting revives old clothes into new and modern garments.
One major section was Sweatyswag, made by Janowitz. Inspiring and empowering, this collection was made for the everyday woman.  The messages within the garments give positive and personal meaning to those who wear it. The concept: "Life is sweaty. Work it out. One can purchase the collection in Illinois, Michigan, and Indiana, as well as online at sweatyswag.com.
Lastly, the show presented the senior collection. "Each year the senior class works throughout the entirety of the spring semester to put together the annual Dominican University Fashion show,"  McKinney states.  The senior designers include Maria Angeli, Keely Cosgriff, Amy Diaz-Hablich, Kristina KuzmickI, Aja Saverson, Justin Suon, and Megan Hickey. Many of their designs were inspired by culture, famous artists, and nature. The audience were delighted and amazed by the collections, taking pictures and smiling when their favorite designs were on the catwalk.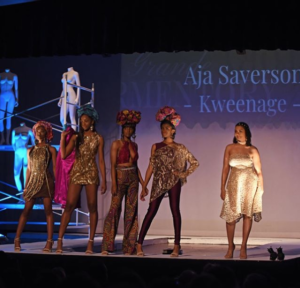 The show concluded with a thank you from Co-Directors McKinny and Diaz-Hblich. This included awards for Distinguished Alumnus, Excellence in Merchandising, Outstanding Senior Collection, Outstanding Individual Design, Up & Coming Designer, and Visual Merchandising.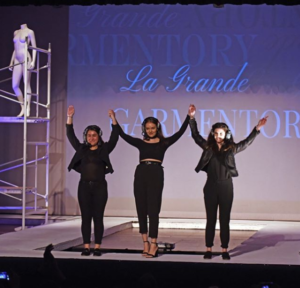 Please follow and like us: