By Emily Lapinski
The construction of the bridge on North Ave. near Thatcher Rd. continues to inconvenience Dominican commuters. The roadwork, which started in June, closed down the north part of Thatcher Ave. and redirected traffic on North Ave.
The Illinois Department of Transportation (IDOT) is in charge of the bridge replacement and intersection improvements on North Ave.  IDOT confirms that the first phase of the project, which should open up the south half of North Ave., should be done by the end of this year. The second phase will follow shortly and total completion is estimated sometime during the summer of 2015.
"It's super inconvenient because I have to go all the way around to get to school," said junior Anna Martinez. "It takes me an extra ten minutes to get to school."
Sophomore Christina Quezada said, "I have to take Thatcher to First which ends up taking much longer. I wish it was over already."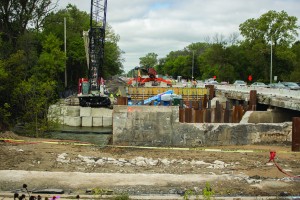 "It's extremely frustrating," said sophomore Natalia Mirek. "It's not only a 5-10 minute detour but I need to take a completely different route which takes me twice as long to get to school. On the first day of school I was pretty sure I was going to be late."
There are many disgruntled students and faculty members; however, there are also some individuals who don't mind the roadwork.
"I come from the south side so the construction is actually a plus," said Professor Dan Condon. "When exiting the parking lot, there is no traffic so I can quickly get on my way."