By Emily Lapinski
In order to try to understand how adjunct band professor Anthony Svejda's brain works on a daily basis, you have to imagine Percy Aldridge Grainger amped up with some electronic dance music (EDM) beats.
Whether performing, directing, teaching or producing, Svejda is always interacting with music. It all started in sixth grade when he chose an instrument to play in his middle school band. Svejda said: "The instrument that looked the most challenging was the Tenor Saxophone. The rest is history."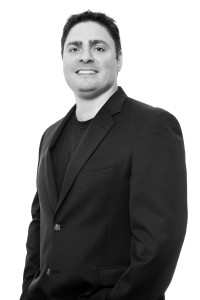 Fast forward a few years and Svejda, fresh out of college with a master's degree under his belt, starts developing his professional presence as a musician. During the 1998-1999 season, Svejda performed as Principal Alto Saxophonist with the Chicago Civic Orchestra. In December 1998, he won a position with the United States Navy Band in Washington, D.C.
After working as a band director in multiple schools, Svejda found his home at Oak Park and River Forest High School. He has been the band director there for ten years.
Svejda directs OPRF's Wind Ensemble, Wind Symphony, Symphonic Band, Concert Band, Jazz Ensemble, Jazz Band II, Pep Band and the Marching Huskies. He works with students from all four years but really enjoys working with the freshman because: "you can see some immediate results and improvement and technique. It is great to see them feel like they have improved over the course of the year."
Band director by day, mixer and producer by night, Svejda has broadened his musical horizons in the past few years and gained presence in the EDM world. His cousin Marc Stout, a resident DJ for Chicago's B96 radio, got Svejda into the EDM scene.
Svejda said: "The dance industry was not a love of mine at first but as a music educator, it is important to keep up with the students' interests."
Svejda and Stout are the mixers and producers behind the group Papercha$er. They started the group as an outlet for their creative interests in EDM. Two years ago, the duo signed with an agency in New York called Primary Wave. Svejda said, "It was a cooperation that gave both my cousin and I more opportunities to work with well-known artists."
Their mixes, which can be accessed on iTunes, YouTube, SoundCloud and Amazon, have been played on the radio worldwide. They have collaborated with artists such as Taio Cruz, Rihanna, Kelly Clarkson, Mariah Carey, Jennifer Lopez and many more.
Svejda said: "J Lo actually used a part of our 'On the Floor' remix in her music video and the famous 'Sunglasses at Night' by Corey Hart was re-written as 'Night Visions' by Papercha$er featuring Corey Hart. He actually contacted our agent to work on the collaboration."
While Svejda and his cousin enjoy remixing the works of well-known artists, they also want to produce more of their own work. Svejda said: "What we really would like to show is that we are capable of not just re-arranging their music but composing it as well. We would love to be the original producers of their music."
Svejda's successes in the faced-paced world of EDM are important to recognize; however, his classical roots are a bigger part of who he is. Svejda said: "My role as a remix artist and producer is more behind the scenes. If someone is interested, I will share information with them. It is a nice side gig but my main job is Director of Bands at OPRF.
Dominican University was privileged to have Svejda on campus as an adjunct last semester to work with the university's budding band program. "I was the band director for a small 8-10 piece ensemble," Svejda said. "I wouldn't call it a band as it was more of a chamber music ensemble. The format was flexible which allowed us to work not just as a chamber music ensemble but as a pep band as well."
Due to the lack of interest, Svejda is not on campus this semester. He said: "This was the first year that band was offered in a long time at Dominican. I would like to return in the event that the interest is there. The main issue is that students are booked and are not able to schedule band, even though they might be interested."
Sophomore Jessica Patino, who played the flute in her high school band, said consistency is key when playing an instrument. Patino joined Dominican's concert band during her sophomore year and said Svejda was "very patient" with the students who had not picked up their instruments since high school.
Patino said, "Even though our band consisted of eight or nine people, Svejda always found a way to make things work. He also gave us the opportunity to have the concert band experience because we were able to go play with his high school concert band. He is very fun, energetic, patient and professional. You can tell that he loves what he does."
Regardless of the context, Svejda will always surround himself with music. He said: "I don't see myself actually retiring from music. It is my life, my passion and simply what I love to do."