By Lauren Pinkston
Nearly four years after an ambush murder near the Priory Campus, the last of three men arrested in the case has been convicted.
A jury found Cardell Taylor guilty last month of the July 2011 murder of Chicago resident Chervon Alexander in the parking lot at Priory Park, just outside Dominican property.
Taylor, 39, was contracted by Devin Bickham Sr. to kill Alexander, who was  Bickham's girlfriend, for $400. Bickham's son, Devin Bickham Jr., was also involved in the plot.
On July 11, 2011, Devin Bickham Jr., drove Taylor to the parking lot.
According to lead prosecutor James McKay, Alexander and Bickham Sr. were parked, presumably to engage in sexual activity. McKay said: "She had no idea what was about to happen to her. In reality Bickham Sr. had been texting his son to arrange Cardell to ambush and kill her."
Taylor emerged outside the car and shot Alexander multiple times, killing her. Bickham Sr. arranged an attempted alibi by calling 911 approximately two minutes after the shots were fired.
No one from the Dominican community apparently witnessed the crime; however, several Oak Park and River Forest High School students helped investigators.
"High school students in the park nearby witnessed what happened and were instrumental in tracking down the criminals," McKay said.
Taylor and get-away drive Devin Bickham Jr. were pulled over by Forest Park Police near the intersection of Harlem Avenue and Madison Street and recovered the murder weapon.
Taylor and the father and son were all arrested and charged with murder.
The Bickhams were both convicted and sentenced to lengthy prison terms; Bickham Sr. was sentenced 95 years and Bickham Jr. was sentenced 50 years in prison.
The minimum sentence for murder with a gun is 45 years; the maximum is 105 years in federal penitentiary.
River Forest Deputy Police Chief James O'Shea said he hopes for a maximum sentencing. He said: "There was a lot of anger, sadness and even disgust. It's hard sometimes to predict the future, but we don't want this to happen again."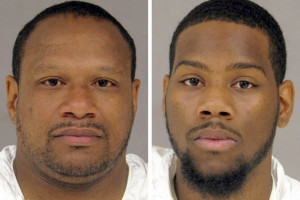 There haven't been any serious incidents in the immediate area of the Priory parking lot, including the adjacent park since the shooting in 2011.
O'Shea said, "Since this incident, there's been increased patrols around the Division and Harlem intersection and the entire Priory Park.
Jessica MacKinnon, director of public information at Dominican University, is adamant about maintaining safety for the Dominican community. MacKinnon said: "The incident in the public parking lot outside the Priory Campus was a shocking event and highly unusual for our community. While this unfortunate incident did not involve Dominican students, faculty or staff, our DU community's safety is of our highest concern."
MacKinnon encourages students, faculty, or staff to use the 24/7 campus safety escorts if they feel unsafe navigating the campus.