By Lauren Pinkston
Digital Editor
Dominican's founder Fr. Samuel Mazzuchelli once said, "Make college as much like home as possible." This is the foundation for planning the new Student Commons building.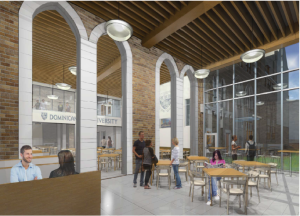 The Student Commons concept was developed to create a community in the center of campus for students and faculty. Michael Lango, director of Student Involvement, said, "Student Commons will bring together functional offices around the university, provide enhanced learning space, include dedicated lounge space and provide for a new destination for students on campus."
The space will incorporate various student-engaging offices on campus, including the Academic Enrichment Center, University Ministry, Student Involvement and Dining Services. The center will include existing renovations of Mazzuchelli Hall as well as a new building, which will be located in what is now the sisters' parking lot.
The planning committee has spent the last few months developing the logistics of the project proposal, including budget and construction plans. Now they are reaching out to students for input.
According to Dean of Students Trudi Goggin, the Student Center planning committee plans to introduce their construction concept to various student groups between February and April 2015.
Goggin said, "We sincerely want your input…what kind of dining concepts, technology, furnishings and hours do students need."
The planning committee has already reached out to the Student Government Association and has plans to meet with the Commuter Student Association, Resident Student Association and other student groups.
SGA president Cutberto Aguayo shared his thoughts on the concept and plans. Aguayo said, "the committee has been very genuine about its intent in including student voice…student voice should be taken into consideration, not just as feedback for the latest drafts, but students should have a voice alongside administrators while crafting these drafts."
Finishing touches on project design and construction will likely begin spring 2016 and take about 18 months to complete. Goggin said students should voice their opinions by attending SGA meetings or by contacting her directly.
Many staff and students are positive about the construction of the Student Commons, which fosters Fr. Mazzuchelli's mission of making college a home. Lango said, "The Student Commons will function like a living room for our home—a place where we can gather, share and grow as a community."