By Cory Lesniak
A pool of over 50 applicants has been cut down to just four candidates competing for the inaugural position of Chief Diversity Officer.
Jonathan Locust, Jose Amaya, Sheila Radford Hill and interim CDO Christina Perez are all still in the running. Each one recently met with faculty, staff, students and administrators in small groups so Dominican community members could gain a better understanding of the candidates' qualifications and potential fit.
President Donna Carroll said, "We are looking for someone who has a strong sense of mission and provides strategic leadership for diversity planning efforts in a way that's sensitive to our culture."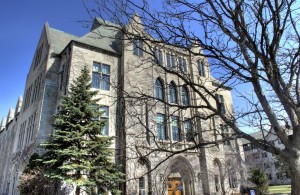 Perez has been interim CDO since summer 2014, when an offer to Kenneth Durgans was quickly rescinded after circumstances made administrators question his departure from Indiana University-Purdue University. The search for CDO was restarted shortly thereafter.
Carroll said: "We have a strong if not a stronger pool than it was the first time around. We will be even more vigilant then we were the first time. It's always important to follow up with references."
The goal this time, Carroll said, is to be more transparent with the candidates. Carroll said: "I have learned personally that I will ask all candidates, as part of my search process, is there anything in your career history that I should know or anything that might be a concern to the institution that I haven't already asked you or hasn't already been transparent."
Perez has been a part of many key events on campus, most notably the "die-in," where students gathered in the Lewis Link to show support for the "Black Lives Matter" campaign. Perez would be an easy option to promote to CDO, but Carroll insists on doing things the right way, even if it means doing more work. She said: Christiana would be the first too tell you…do a public search and be transparent and find the best pool and choose a candidate from that pool. Not doing a full search would be against the whole diversity effort."
The search committee is in the process of assessing the final four candidates. Carroll will ask the committee for the two strongest candidates and she will make the final call. "Our goal…is to have candidates by July 1," Carroll said.