By Melissa Rohman  
Since November, President Donna Carroll has been anticipating a grant awarded by former Illinois Governor Pat Quinn.  Unfortunately, since the election of Bruce Rauner, the grant has been frozen.
On Feb. 12, Carroll received a call from the office of Illinois Senator Don Harmon, who is advocating on Dominican's behalf for the grant. Carroll is hopeful that Dominican will receive the money and said, "This is good news."
Many other private colleges and universities in the Chicagoland area are anticipating grants as well. In 2009, Gov. Quinn announced a new capital program for non-profit private colleges and universities in Illinois called the Independent Colleges Capital Program. The program appropriated $300 million to fund university projects.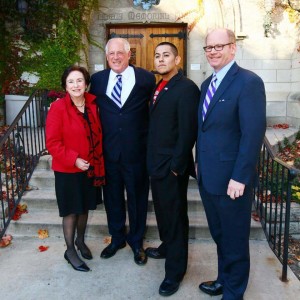 The funds come from the sale of Build Illinois Bonds, administered by the Illinois Board of Higher Education, not the state's operating budget. The projects that the program will fund are those that can be implemented quickly such as construction, repair and renovation to private institutions in Illinois. Funds will be transferred to a new institution if not used within 10 years.
Student Government Association president Cutberto Aguayo said: "About a month ago, Gov. Rauner issued Executive Order 15-08, which requires every executive department to report…every contract awarded or entered into by a state agency on or after Nov. 1, 2014 and to halt such grants or contracts. Executive Departments are to halt these awards until July 1, 2015."
According to Senior Vice President for Finance and Administration Amy McCormack, who is managing the grant, Dominican was awarded a sum of $4,165,631 because it had met the grants eligibility requirements. The first distribution of the grant was made in 2010 and subsequently Dominican has received two more distributions, totaling $2,819,873.
McCormack said, "The capital projects covered under the grant proposal for Dominican include the Sisters' Garage Conversion (currently OMC offices), the Library Link and Soccer Field projects."
McCormack also said that the remaining funds of $1,345,758 are expected to be received in 2015 and will be used for the new Student Commons project which will likely begin construction in 2016, taking an estimated 16 months to complete.
McCormack expressed hope that the remaining grant will come soon. "We had hoped to receive the funds before the end of 2014," she said. "There is some additional paperwork that is required with the transition in the governor's office. So while the funds have been delayed, we are still hopeful the money will arrive in 2015."