Cory Lesniak 
Dominican commuters will notice a change in the garage parking lot as an additional four spots were added exclusively for hybrid vehicles. Now, there are 1100 parking spaces available on campus and just 12 are hybrid.
Daniel Bulow, Director of Building and Grounds, said: "We have added more hybrid spots because the existing hybrid spots are routinely full. We are adding more in response to requests from student, faculty and staff.  Since they are full, this doesn't reduce the number of spots available on campus, it just gives the hybrids a reserved area to go to."
Last fall, Dominican had converted some of the islands in the existing parking lot that lie between Parmer Hall and Lewis Hall to create 24 additional parking spaces. Cameras show that the parking lot is not as busy as it is usually is during the beginning of semester.
Bulow said, "Security monitors the parking status several times per day and reports that capacity issues decline after the first couple weeks of the semester."
There are currently no plans to install charging stations for electric vehicles. There is one student who has an electric car with a converter so it does charge using Dominicans current outlets with the converter provided by the car manufacturer.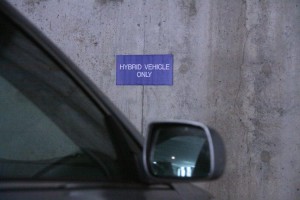 "For now we are waiting to see if this will be the trend of the future or if we do need to put in special charging stations," Bulow said.
Students who live near campus are encouraged to walk or bike and those who commute are encouraged to car pool with others.
Bulow said: "We do encourage though that those that can either bus it, bike it, walk it, skateboard it car pool it to campus to do so. Not only does that relieve the parking situation but promotes a healthier commute for not only the planet but the individual."
Bulow says that Dominican, as part of its commitment to sustainability, rewards those that do something to lessen their carbon footprint.
Anyone who would like to share his or her concerns or suggestions about parking can contact Bulow directly.