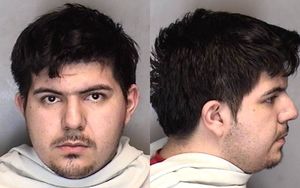 By Cory Lesniak
A former Dominican student has been arrested and is being held on a $2 million bond in connection with the murder of Vicente Mundo, a 20-year-old University of Illinois student.
Daniel Gonzalez, 21, of Cicero and Reginald Scott, 21, of Champaign were arrested Feb. 2 in connection with the shooting death of Mundo. Gonzalez attended Dominican from Fall 2011 to Spring 2012 before transferring to The University of Illinois, where he attended Fall 2012 to Summer 2014, until transferring to Parkland College.
Dominican senior Ana Enriquez said: "[Gonzalez] was very social, from what I remember. He talked to and met a lot of people at [freshmen orientation] and even went on the Emerging Leaders retreat."
Mundo, a Chicago native, was last seen Jan. 25 when he left a campus apartment to meet a friend. He was wearing a red Chicago Blackhawks baseball cap, a blue coat and a red backpack. His family offered a $10,000 reward for information leading to his whereabouts after reporting him missing Jan. 27.
According to police, Scott hid in the trunk of Gonzalez's car while Gonzalez sat in the driver's seat and Mundo sat in the passenger's seat. Scott then slid into the back seat of the car. When Mundo attempted to escape, Scott fired a single gunshot to the back of his head, which was later determined as the cause of death.
Gonzalez and Scott drove to dispose of the body by a roadside in Tolono, Ill., where a woman walking her dog discovered it the following Saturday morning.
Police questioned Gonzalez after uncovering online conversations and text messages between him and Mundo on Jan. 25, the day Mundo was last seen.
After Gonzalez was questioned again, he confessed to his and Scott's involvement.
While police were executing a search warrant in Scott's apartment, he returned home and was arrested in the parking lot. Scott later admitted to the crime during a police interview.
Gonzalez was charged with first degree murder, intent to kill and armed robbery. If convicted, he faces a minimum sentence of 35 years or maximum of 75 years in prison.
Scott was charged with first degree murder, discharging a firearm and armed robbery. If convicted, he faces a mandatory minimum sentence of 45 years in prison and a maximum sentence of life in prison.
A preliminary hearing for a trial will take place Feb. 23 at 3:00 p.m. at the Champaign County Courthouse in courtroom B.
(Contribution reporting by The Daily Illini)