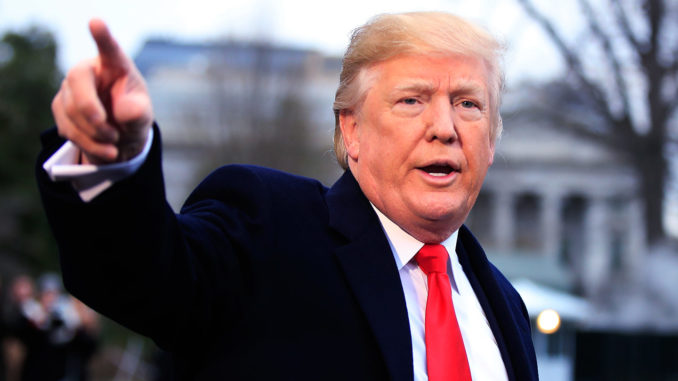 Thomas Gibbons
Staff Writer
Opinion Piece
Jan. 20, 2017 is a historic day as Donald J. Trump became the 45th President of the United States of America.
For many Americans, it is a total shock that Trump was victorious over Hillary Clinton on Election Day in 2016. But
through Trump's strong campaign, he edged the former Secretary of State to become the leader of the United States.
There are a lot of mixed responses on President Trump's first two years in the oval office. But you cannot ignore the
facts of what Trump has accomplished.
A release from the White House on Jan. 20 listed the historic results of Trump's work since his inauguration day.
More than 5 million jobs have been created since President Trump's election and the unemployment rate remains below 4 percent.
Prior to this year, the unemployment rate had fallen below 4 percent only five times since 1970.
There is no doubt that the President has put a huge focus on creating jobs. Many companies, including Ford and Dow Chemical, have re-invested in America and adding hundreds of jobs. Apple is building a new corporate campus in the United States which will add 20,000 jobs and more than $350 billion for the U.S.
economy between now and the end of 2023 (Silicon Valley Business Journal).
The economy has reached record highs and the Real GDP grew at annual rates of 3.4 percent in the third quarter of 2018 and 4.2 percent in the second quarter. Consumer confidence has soared under President Trump, recently reaching an 18-year high.
More than 6 million workers received tax cut bonuses and benefits. How can anyone forget the groundbreaking tax cuts? We are bringing home more money in our paychecks and for us college students, it is a beautiful thing.
President Trump negotiated a new trade agreement between the United States, Canada, and Mexico to replace the disastrous and outdated "North American Free Trade Agreement."
President Trump launched "Initiative to Stop Opioid Abuse" and "Reduce Drug Supply and Demand," introducing new measures to confront the driving forces behind this crisis.
Immigration and Customs Enforcement's (ICE) Homeland Security Investigations arrested nearly 800 MS-13 members and associates in FY 2017, an 83 percent increase from the prior year.
One of Trump's biggest messages is that he wants to keep Americans safe. And how could anyone be against him on that. The ongoing government shutdown looms on President Trump's intent to fund the border wall and the Democrats are against it.
But put aside your thoughts on open borders and illegal immigration. MS-13 gang members and other criminals who bring in drugs and weapons in the US are not people we want. ICE agents have done a tremendous job at the border and with Trump's wall, we can continue to keep American safe.
These are just some of Trump's accomplishments in two years. He has done a fine job in many areas, but there are things that can be criticized. Trump uses social media frequently, and some are not pleased with his choice of words,
especially on Twitter. There is also an ongoing investigation on if there was collusion between Trump and Russia
during his campaign. The evidence remains to be inconclusive.
Whether you like President Trump or not, he is our president. We have to respect our leader. The great citizens of the United States of America made the decision three years ago to elect Trump to run our country and he has done great things for the future of America.
tgibbons@my.dom.edu
Please follow and like us: