By Sara Scheler
The good people at Native Foods Café have brought their California-inspired, plant-based vegan goodies to Chicago. There are NFC's sprouting up all over the city and, most recently, one in River Forest at 7343 Lake St.
I went to see what they had to offer and was genuinely impressed. The place is small but it looks spacious and it is immaculately clean. The servers were extremely friendly, funny and helpful. I perused the menu for a bit before settling on a Caribbean jerk kale salad. $14 got me a generous salad (plenty for leftovers) and a box of sweet potato fries. The server offered me a free rewards card which came with a free drink and a free cookie and I didn't have the heart to turn it down (plus, I really wanted the cookie).
The food was ready in minutes and I used the self-serve beverage station to make myself a mixture of hibiscus-blueberry tea and lavender lemonade, dropping in a few lime slices and mint leaves as a tasty garnish.
The salad was hearty, the veggies fresh and the creamy jalapeno dressing flavorful. The "chicken" tempeh was a little odd, texture-wise, but tasted fine and complemented the salad nicely. The mangoes were a tad under ripe but what can you expect for Chicago in January. The sweet potato fries moved quickly to my list of favorite foods—they were perfectly cooked and tossed in a sweet and salty mixture of spices. The cookie was so sweet and crunchy I didn't even miss the butter.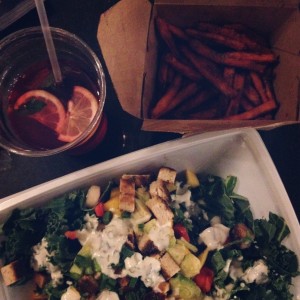 Everything at NFC is vegan, which the cashier was sure to remind me about before I paid. The menu lists things like "Native Chicken," which is really a mixture of soy (non-GMO, thankfully), flavors and binders. I usually steer clear of meat imposters due to the potential dangers of soy products but this place seems to be smart about their ingredients so I was easily swayed.
Overall, I enjoyed the experience. The food was quite tasty, the restaurant was very clean and the staff more than usually friendly. The price would have been high had I paid for the drink and dessert, but you get what you pay for and I am willing to shell out a few extra bucks if it means feeding my body well. My taste buds were happy, too.
[4 out of 5 forks]