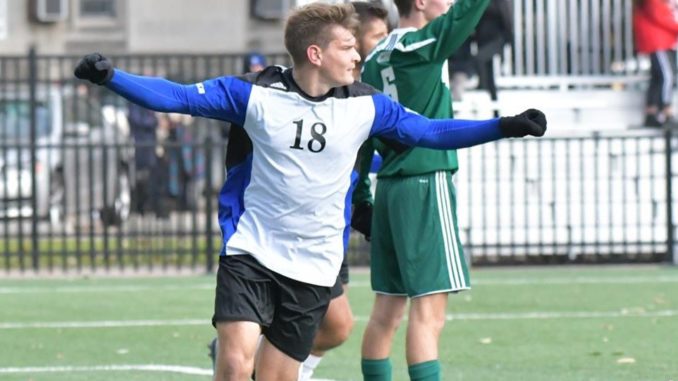 Thomas Gibbons
Staff Writer
Opinion Piece
After two great seasons respectively, Men's and Women's soccer earned trips to their Division III tournaments this past weekend. The Men's team is back in the NCAA Division III tournament for the second straight year, their 15th overall appearance. As for the Women's, it was their second appearance in program history.
Both teams enjoyed bountiful success this season, each winning their conferences respectively earning berths to the tournament. The men nished with a 14-5-1 record and took a six-game winning streak into the tournament. The women accomplished a 18-3 record and won 18 games straight until falling in the rst round to Otterbein University 2-1.
The men's team, led by longtime coach Erik Baumann, moved onto the second round on Sunday afternoon after a 2-0 win over Gustavus Adolphus College. Issac Perez scored in the 52nd minute that ended up being the game winner for the Stars.
"Isaac has really turned it on here down the nal stretch of our season," said Baumann. "His box scores have shown it. He is putting the ball in the back of the net and is a big playmaker. He has really ipped the switch and when Isaac ips that switch, he is unstoppable."
Highlighting the Accomplishments Women's:
Setting a program record for the wins (18)
Program record for average goals against (0.38)
16 shutouts on the year.
Head Coach Carlos Carrillo earned the NACC Coach of the Year.
Men's:
Finished 8-3 in conference
Micheal Delaney and Issac Perez earned the First-team NACC honors
Have outscored opponents 11-4 in their last last four games
The men are back in action Sunday afternoon vs. Luther North in second round action. A win tonight will send them to the sectional semifinals next weekend.
UPDATE (11/15): Men's soccer lost to Luther North, 2-3
tgibbons@my.dom.edu
Please follow and like us: