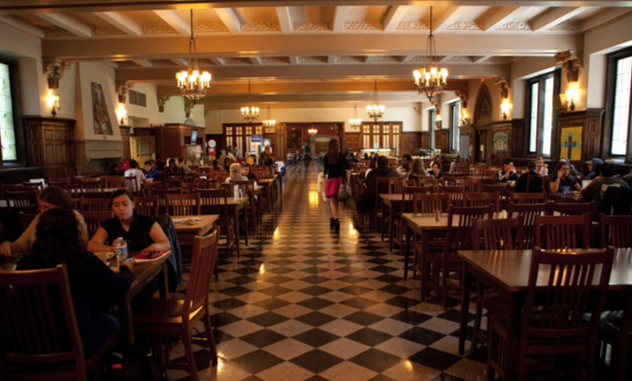 Kanoa Ikeda-Flynn
Contributing Writer
When many people think of health inspections of restaurants and cafeterias, they may think of vermin, such as rats and roaches.
Dominican's Dining Hall and Cyber Café do not have any such pests, but an inspection earlier this year showed some problems in the kitchen and serving areas.
A Jan. 29, 2018 inspection conducted for the village of River Forest noted the following problems:
Defective dishwashers
Deficient sanitation mixture concentration
Inadequate temperatures for steam tables and refrigeration
Kitchen wall, floor, and baseboard in disrepair
With hundreds of students, faculty, and visitors using the on- campus Dining Services, it is critical for health standards to be at its highest just like any other eating establishment according to River Forest Sanitation health standards.
"We try to maintain a high grade of sanitation and upkeep regardless of whether or not an inspector is due to visit," said Dining Services Director of Operations Claressa Padilla. "Whenever we do nd an issue with the machinery or facility itself we send that issue to the Physical Plant who will resolve the problem."
What the reports specifically touched on were the temperatures that were not on par with proper limits for containing food items that were cooked or uncooked. One of the refrigerators, for example, was at 57 degrees, when the inspector noted it should be at 41 degrees. An expert in Dominican's nutrition department said food service people have to stay vigilant.
"Food safety and preventing food-borne illness is always a top priority of all food service operations whether it is restaurants, coffee shops, or your local 7/11," said Alysson West, a Lecturer for Nutritional Sciences at Dominican. "With my experience working in food service, refrigeration and coolers may gradually decline over time and simply break. Based o the information from the reports, you may not know whether or not the refrigeration was working properly until the day of the inspection; causing an unfortunate coincidence or yes if it really was a lack of proper upkeep and record logs of the temperatures".
According to West, many of the remarks of the Dining Services inspection reports are considered minor, yet required immediate action. West is also the lecturer for a nutrition class that runs the occasional Recipe Box Cafe. Students and themselves preparing lunch and dinners out of the Parmer Hall kitchens for people who wish to pay and eat.
A follow-up inspection in March gave Dominican a clean bill of health. Students say they are satisfied with the conditions at both the Dining Hall and the Cyber Café.
"As far as I can see, the sanitation is fine whenever I go to eat," said On- campus resident/Junior Trent Hicks "I don't really go around seeing or hearing people getting sick from the food so I would say they do a good job in keeping things clean". The protocol is broken up into the following sections followed by the respective subsections, West said:
General sanitation
Refrigeration
Dining room services
Dish-washing
Freezers
Kitchen work area
Much like Dining Services, students are also responsible for maintaining sanitary regulations based off of the same health guidelines for any eating establishment in River Forest.
ikedkano@my.dom.edu
Please follow and like us: